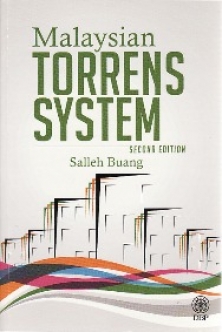 Malaysian Torrens System, 2/e <>
by author SALLEH BUANG, ,
The first edition of this popular book was published in 1989 and since then it has been reprinted several times over the years without any revision. This is the second edition, revised as at the end of August 2005.

All the original 14 chapters have been retained in their original sequence, except for a new Chapter 14, dealing with land development.

There had been such a large number of important decisions affecting the subject over the past 15 years since the first edition was put on sale that the author and the publisher considered it timely to come out with a fresh edition.
Status :
Out of Print
Retail Price :
RM35.00
Now Offer :
RM35.00

ISBN:
9789836294654
Category:
General
Format:
KULIT NIPIS
Publication Date:
2015
Publisher :
DBP
Pages:
395
Dimensions (mm):
153 x 227 x 26
Weight:
0.80