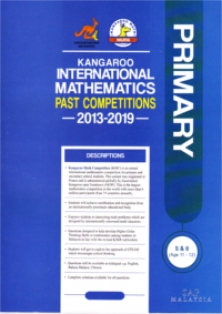 Kangaroo International Mathematics Past Competitions 5 & 6 (2013-2019) #
by author , ,
Descriptions:
• Kangaroo Math Competition (KMC) is an annual international mathematics competititon for primary and secondary school students. The contest was originated in france and is administered globally by Association Kangaroo san Frontieres (AKSF). This is the largest mathematics competition in the world with more than 6 million participants form 75 countries annually
• Students will achieve certification and recognition from internationally prominent educational body.
• Exposes students to intersting amth problems which are designed by internationally renowned math educators.
• Questions designed to help develop High Order Thinking Skills in mathematics among students in Malaysia in line with the revised KSSR curriculum.
• Students will get to explore the approach of STEAM which encourages critical thinking.
• Question will be available in trilingual eg: English, Bahasa Melayu and Chinese.
• Complete solutions available for all questions.
Status :
In Stock
Retail Price :
RM19.90
Now Offer :
RM19.90

ISBN:
9789673217397
Category:
UPSR
Format:
KULIT NIPIS
Publication Date:
2020
Publisher :
SAP PUBLICATIONS
Pages:
110
Dimensions (mm):
190 x 254 x 6
Weight:
0.23