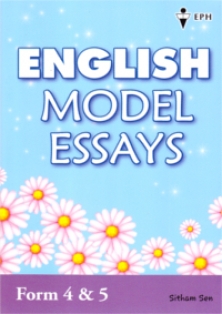 English Model Essays Form 4&5 #
by author SITHAM SEN, ,
English Model Essays Form 4&5 is a comprehensive guide to essay writing for upper secondary students. It aims to help the students enhance and inculcate good writing skills that are crucial to ace their written examinations.

Special features:

• General Guidelines offer useful tip on developing prolific writing skills.
• Writing Guides recommend vital instructions for the construction of more compelling and gripping compositions.
• Well-organised frameworks that are designed to guide the students on a methodical approach to each type of directed essay writing question.
• Clear and easily comprehensible instructions.
• Wide-ranging essays written according to the style and standard of lower secondary level.
• Word Power section to expand and enrich the students' vocabulary size.

Status :
In Stock
Retail Price :
RM19.90
Now Offer :
RM19.90

ISBN:
9789672413325
Category:
Essays
Format:
KULIT NIPIS
Publication Date:
2020
Publisher :
EPH
Pages:
422
Dimensions (mm):
147 x 215 x 21
Weight:
0.51