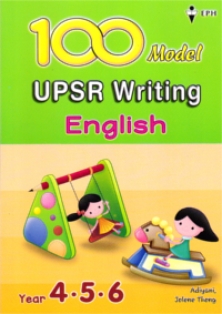 100 Model UPSR Writing English #
by author ADIYANI, JOLENE THONG,
• 25 Model Section A (Information Transfer)
• 25 Model Section B (Guided Writing)
• 50 Model Section C (Creative Writing)
• Based on the latest UPSR format for Writing Paper 2.
• Includes notes and tips on answering questions for each section.
• A comprehensive guide for students in Year 4,5 and 6 as it covers various types of interesting topics.
Status :
In Stock
Retail Price :
RM9.90
Now Offer :
RM9.90

ISBN:
9789674848774
Category:
Essays
Format:
KULIT NIPIS
Publication Date:
2020
Publisher :
EPH
Pages:
156
Dimensions (mm):
147 x 215 x 8
Weight:
0.20