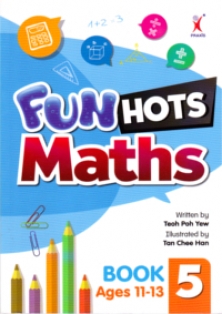 Fun HOTS Maths Book 4 (Ages 11-13) #
by author TEOH POH YEW, ,
Featuring over 60 mind-boggling questions, this book is designed to help your Higher Order Thinking Skills (HOTS), to sharpen your problem-solving ability and to master the mathematical concepts related to primary school curriculum.

Among other benefits of this book:
• Ample variation of questions to practice new problem-solving strategies.
• Hints given for some of the more complex questions.
• Step-by-step working leading to the solutions are provided.
• Multiple solutions are given.
Status :
In Stock
Retail Price :
RM15.00
Now Offer :
RM15.00

ISBN:
9789811177859
Category:
UPSR
Format:
KULIT NIPIS
Publication Date:
2019
Publisher :
PRAXIS PUBLISHING
Pages:
76
Dimensions (mm):
146 x 216 x 5
Weight:
0.12