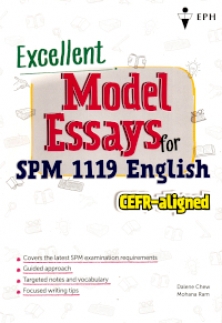 Excellent Model Essays for SPM 1119 English **
by author DALENE CHEW, MOHANA RAM,
Excellent Model Essays for SPM 1119 English is designed for students preparing for the CEFR-aligned SPM 1119 Paper 2 (Writing). It guides students through the analysis and understanding of the writing task to content organisation and brings it all together in the model essay. This step-by-step approach focuses on building writing and task-based skills to empower students to excel in the SPM examination and beyond. Effective notes for the SPM-focused sections provide key writing guidelines and useful vocabulary for the specific writing task.


The book has been organised into four parts:
• Part 1 - Short Communicative Message
• Part 2 - Guided Writing
• Part 3 - Extended Writing
• Part 4 - Other Types of Writing

Parts 1,2 and 3 correspond to the SPM-focused writing tasks, while Part 4 covers both textbook-related and authentic communicative tasks that equip students for real-life situations. The model essays are supported by targeted writing tips and topic-related vocabulary.

This book will be of help to anyone looking for an organised approach to building and developing their writing skills.
Status :
In Stock
Retail Price :
RM15.90
Now Offer :
RM15.90

ISBN:
9789672506164
Category:
Essays
Format:
KULIT NIPIS
Publication Date:
2022
Publisher :
EPH
Pages:
232
Dimensions (mm):
169 x 244 x 10
Weight:
0.32